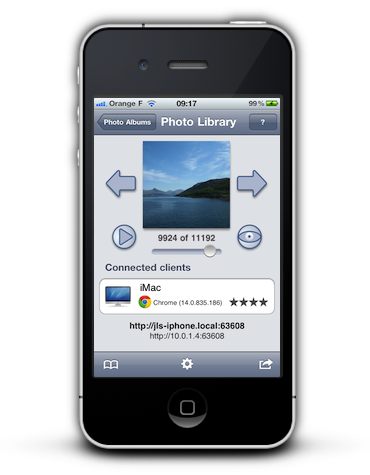 Just start Pix'Air on your iPhone or iPod touch, and show your photos to friends or family on any screen in the same WiFi network: computers, iPads, or internet-enabled devices, all can display outstanding slideshows of your photo albums in a standard web browser.
Using Pix'Air built-in controls, you can directly pilot the display of your photos on the other device using the comfortable touch-based interface of your iPhone or iPod touch. Of course you can also use the computer's mouse or keyboard to navigate in the photo album. Or just start the automatic slideshow mode, admire the photos and relax!
One of Pix'Air unique feature is its ability to pilot the synchronized display of photos on multiple devices or computer windows. Several client web browsers can be connected to a same Pix'Air photo album at once, and all of them will display the same photo at the same time; moreover from each connected browser you can control the photo navigation at any time.
How does Pix'Air work?
Pix'Air use the latest HTML 5 technologies to achieve the best presentation for your photos. This makes Pix'Air compatible with most modern web browsers like Safari, Firefox, Chrome or Opera.
SHowing a Photo Album is really easy: just enter in your favorite web browser the http address displayed by Pix'Air, and the current photo will appear right away, perfectly sized to fit in your browser's window.
And because there's not always a WiFi network available, two iOS devices running Pix'Air can also share their photo albums with each other using their built-in bluetooth connectivity.
Flexible albums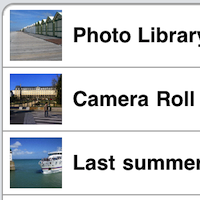 With Pix'Air you can select for sharing any set of photos available on your iOS device.
This includes the Camera Roll and all albums, events and faces photo sets synchronized with iTunes.
Pix'Air can share several photo albums at once. This allows you to have your favorite sets of photos always accessible. And the position in each album is stored, so you won't need to restart it from the first photo the next time.
Great display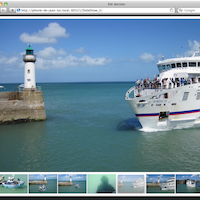 Pix'Air always presents your photos with the best possible quality.
The display will automatically be adapted to the browser window size and you will have crisp images, even in full-screen mode.
Nice 2D and 3D transitions are inserted between photos and are adapted to the web browser's graphic capabilities.
And on the iPhone and iPod touch, Pix'Air takes full advantage of the retina display.
Flexible Control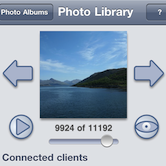 With Pix'Air you can control a photo album at your convenience from your iOS device of from the web browser.
From your IOS device, go to the next or previous photo with the buttons in the Album screen or go to the Play screen and slide / tap the thumbnails bar for selecting the next displayed photo.
From the web browser use the arrow keys to navigate or drag / click in the thumbnail bar with the mouse.
Or start the slideshow mode and just watch the photos playing!
---
Easy connection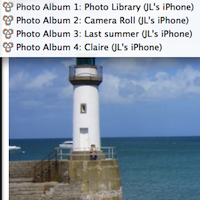 To display your photos, you can type Pix'Air's http adress in your favorite web browser.
If the display device supports email or SMS, you can also send a link to the current Pix'Air Photo Album in a message.
Or, if you are using Safari or another Bonjour-enabled browser, it is even easier: just choose a photo album from the browser's Bonjour menu and it will display!
And if more than one iOS device is running Pix'Air in a network, each will display the lists of photo albums shared by the others. And it works in Wifi or Bluetooth mode!
---
Browser compatibility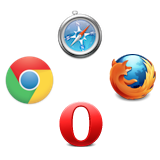 Pix'Air use standard HTML5 and CSS3 for high-quality photo rendering and associated transitions.
This makes Pix'Air compatible with most recent web browsers: it has been sucessfully tested with Safari, Firefox, Chrome, Opera and IE 8-9.
However not all browsers are equals when it comes to graphical transitions or effects. No problem: Pix'Air adapts the display to use the capabilities of the connected web browser at its best.
And Pix'Air display a rating indicator that informs you about these capabilities for each connected browser.
---
Multiple screens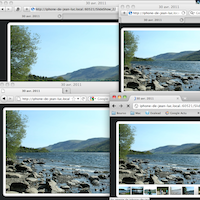 Pix'Air can have more than one client screen for a photo album.
This means that you can display a photo album on several screens simultaneously, e.g. on an iPad and a computer, or open several windows of the same photo album on a computer.
And all screens or windows are synchronized and display the same photos with the same transitions.
This is for fun, but it can also be usefull if you want to show your photos to a large audience.
In this configuration, the photo album can be controlled from any of the connected screens.
Sharing Photo Albums: a quick start
Photo albums shared in Pix'Air can be played from any computer or device with a web browser in the same local network.
They can also be played from another iPhone, iPad, or iPod touch running Pix'Air or the free Pix'Air Viewer application.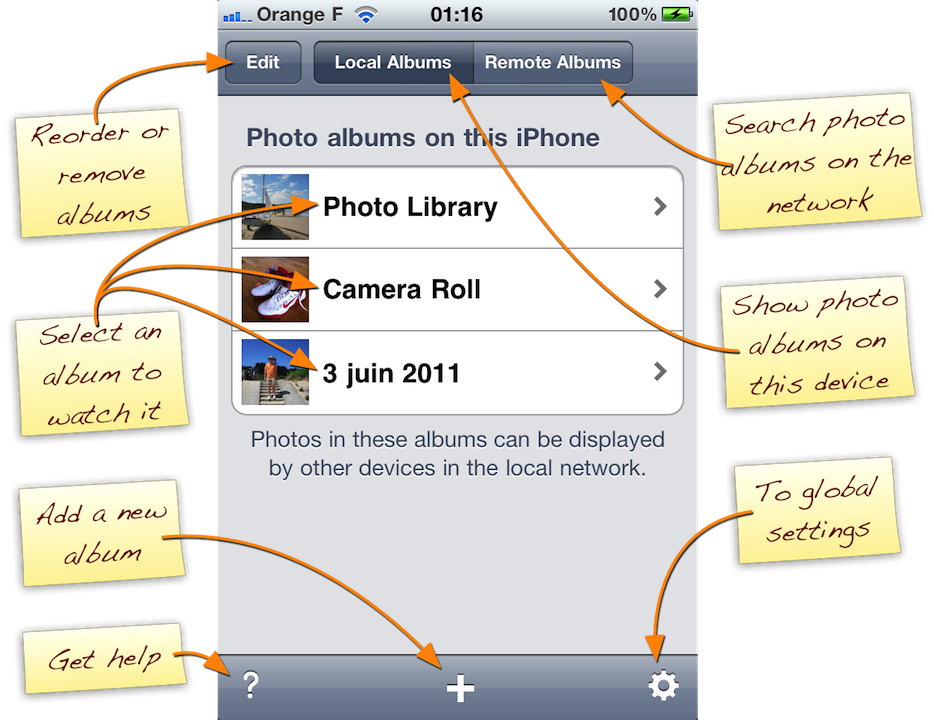 To play a shared Photo Album from a web browser, you have several options:
Type in the web browser the http address displayed in Pix'Air's screen.
Use the «Send Link» Button to send a link to the current Photo Album by mail or SMS.
In Bonjour™-enabled browsers (Safari, Camino...) the Bonjour menu gives direct access to Pix'Air shared Photo Albums: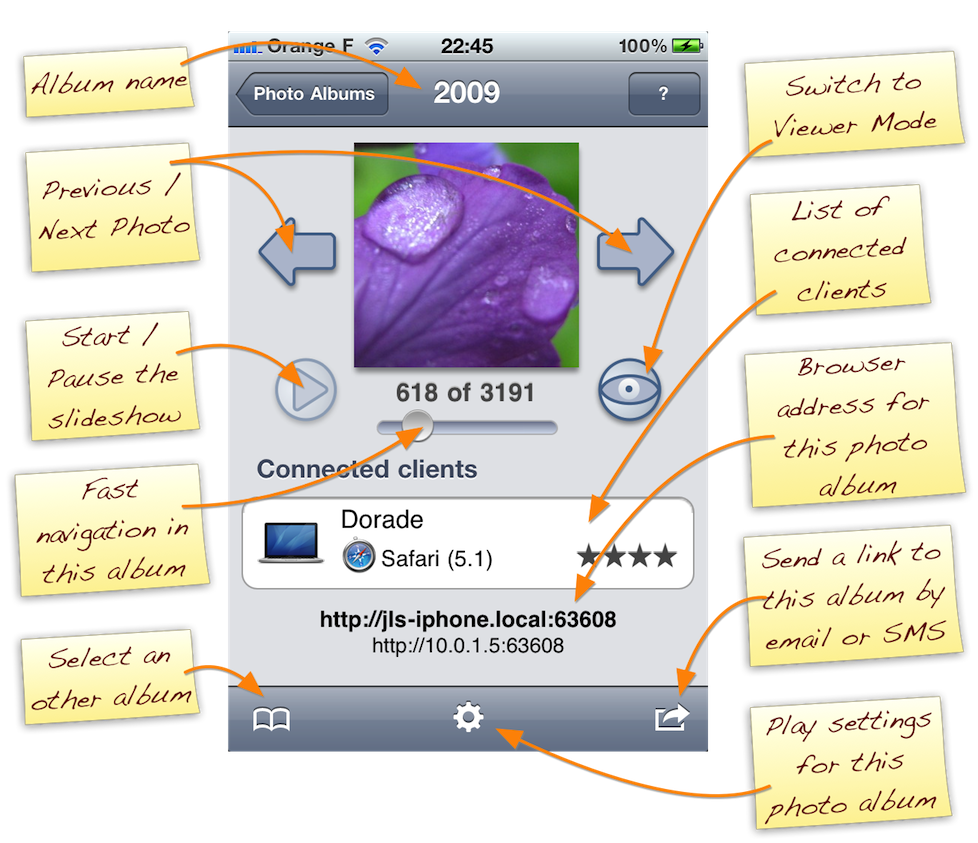 Et voilà! You can now enjoy your photos and control the Photo Album from the web browser or directly in the Pix'Air application on your iPhone, iPad or iPod touch.
Which web browser can I use?
In order to provide you with the best photo browsing experience, Pix'Air uses advanced techniques based on HTML5 and CSS3 animations.
Most recent web browsers support those technologies and are thus compatible with Pix'Air photo sharing.
And, because not all browsers are equals when it comes to transitions or graphical effects, Pix'Air presents an indicator of the connected client's graphical capabilities.
Rating
Description
Browsers
...
Minimum level: the browser is compatible with Pix'Air, but the only basic display functionality is working: no transition between photos, no possibility to move the thumbnails navigation bar

IE 8 → 9

Firefox 3.0

Camino

★...
Basic level: the thumbnails navigation bar is functional, but transitions are not supported.

Firefox 3.5 → 3.6

★★..
Correct level: the browser supports simple transitions in 2D

Firefox 4 → 5

Opera 9 → 11.6

★★★.
Good level: the browser supports all transitions and animations in 2D only

Chrome 8 → 11

Firefox 6 → 9

★★★★
Excellent level: the browser supports all transitions and animations sent by Pix'Air, in 2D and 3D

Safari 4 → 6

Chrome 12 → 24

Firefox 10 → 18
This version fixes a crash that could occur after upgrading a device to iOS 5 in rare configurations. 
Also fixed a couple of other bugs or performance issues.
---